Music Business Association Helps Emerging Companies Connect and Thrive with Music Startup Network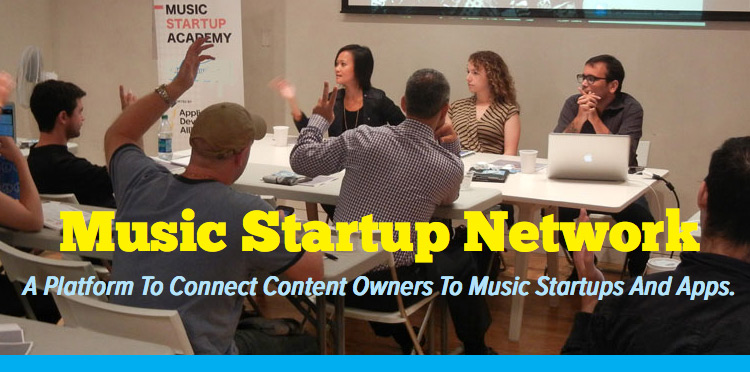 December 4, 2013 – The Music Business Association (Music Biz), formerly known as NARM and digitalmusic.org, has introduced the Music Startup Network in an effort to provide music entrepreneurs and content providers with all the resources they need to create and power profitable, legal music companies. It is the first product that Music Biz has introduced since its rebranding and reorganization in early October. 
Following in the footsteps of previous initiatives such as the Music Startup Academy educational series and the Music API Directory, the Music Startup Network will connect entrepreneurs looking for licensing, marketing, or mentoring relationships for their web, mobile, tablet, or enterprise apps with content players from leading record labels, publishers, performing rights organizations, artist managers, and other rights-holders. It also gives content companies an easy way to sort through, organize, and filter the large number of potential partners at their disposal so they can find the ideal match for their needs.
Entrepreneurs who sign up for the Music Startup Network can create a free profile featuring logos, splash images, screenshots, and feature descriptions. They will also be asked basic due diligence questions regarding number of team members, levels of funding, types of APIs used, business models, and other business development issues. Music Biz rights-holder members can then search, flag, and contact entrepreneurs that match their interests.
"This is the next logical step in our efforts to empower music startups," said Bill Wilson, Vice President of Digital Strategy and Business Development for Music Biz. "The future of the industry is in the hands and minds of these entrepreneurs, and now, with the Music Startup Network, they will be able to easily form the connections they need to turn their ideas into profitable companies with the potential to carry the entire music business forward."
"The Music Startup Network offers an easy and efficient route for us to interface with a wide array of new partners," said Yi Ping Ho, VP, Global Digital Business Development for Warner Music Group. "We look forward to the new connections and exciting opportunities this new tool will provide."
"The Music Startup Network would have been the perfect resource for someone like myself as I was coming into the music industry two years ago," said Derrick Fung, whose startup Tunezy was recently purchased by SFX Entertainment. "There are so many things to know about royalties and rights and, as an outsider, you have no idea where to go or who to reach out to for help. Many startups fail because they don't have access to this information. The Network provides a great tool for connecting with the labels and rightsholders that have those answers.  This tool will help startups succeed."
"It is challenging for artists and their representatives to cut through the clutter of music-tech startups to find companies that provide real value," said Bryan Calhoun, Digital Strategy and Business Development for the Blueprint Group. "The Music Startup Network is a welcome tool for us to efficiently find and connect with companies we should be in business with. I will certainly encourage all companies in this space to submit for it. Additionally, it can be frustrating when startups do not understand music licensing structures and the motivations and constraints of music business players. Fortunately, those who are novices can rely on the Startup Academy for guidance, which will significantly improve how they present their products to me and my counterparts."
Content partners at launch include Universal Music, Sony Music, and Warner Music Group, with more to be announced shortly. To sign up as either an entrepreneur or content partner for the Music Startup Network, visit www.musicstartupnetwork.com.