Twisted Sister Frontman Dee Snider to Receive Humanitarian Award at Music Biz 2014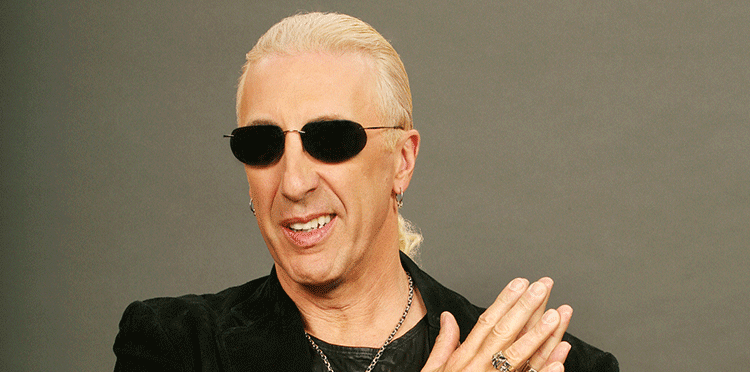 Harry Chapin Memorial Humanitarian Award to honor entertainer for charity work with Long Island Cares Inc., Jam for Autism, March of Dimes, Gibson Girl Foundation, and Station Family Fund
April 7, 2014 – The Music Business Association (Music Biz), formerly NARM and digitalmusic.org, will present Dee Snider, frontman of classic heavy metal band Twisted Sister, with its prestigious Harry Chapin Memorial Humanitarian Award during the Music Biz 2014 Awards Luncheon at 12:30 p.m. on Thursday, May 8, at the Hyatt Regency Century Plaza Hotel in Los Angeles. This Award recognizes outstanding philanthropic efforts from members of the music community, which Snider earned for his work on behalf of Long Island Cares Inc.; the Jam for Autism; the March of Dimes, where he served for several years as the Grand Marshal of the famed Bikers for Babies ride; the Gibson Girl Foundation; and the Station Family Fund.
Each year, Snider organizes the Dee Snider's Ride motorcycle event, with proceeds from the ride benefiting Long Island Cares Inc., a regional food bank and hunger assistance organization founded by Humanitarian Award namesake Harry Chapin. Snider also organized the Jam for Autism in 2012, gathering major Long Island musicians to perform in support of the Sid Jacobson Jewish Community Center's special needs programs. In addition, while competing on The Celebrity Apprentice, he donated his earnings to the March of Dimes, including a $325,000 donation he earned after leading his team to victory in a fundraising challenge. He has also performed at a variety of benefit concerts, including events in support of the Gibson Girl Foundation, which was founded by musician Deborah Gibson and provides scholarships to young performers, and the Station Family Fund, which was established to provide support for survivors and family members of those affected by The Station nightclub fire in 2003.
"Many people know Dee Snider as one of heavy metal's most colorful characters, but what they don't realize is that he is also one of the most giving musicians in the business," said James Donio, President of Music Biz. "The amount of time and money that Snider has dedicated to charitable causes is truly remarkable, from performing at benefit concerts for the Gibson Girl Foundation and The Station Family Fund, to organizing the Jam for Autism and Dee Snider's Ride, to donating his earnings from The Celebrity Apprentice to the March of Dimes. We're thrilled to present the Humanitarian Award to such a deserving honoree and believe that Harry Chapin would be proud to count Snider among its recipients."
"It's a real honor to receive this Award, as I believe it's everyone's duty to give back to those in need," said Snider. "I've been fortunate enough in my life to have success in the creative field, which has given me a great platform to make a difference in people's lives. While the end goal was certainly not recognition, I'm grateful for the validation and hope this award will bring more attention to all the great charities I've had the pleasure of working with."
Snider burst onto the music scene as the frontman of Twisted Sister in the 1980s, releasing two Gold records (Come Out and Play and You Can't Stop Rock 'n' Roll), reaching multi-Platinum status with the classic album Stay Hungry, and releasing massive hit singles such as "We're Not Gonna Take It" and "I Wanna Rock." Not one to be contained by only one creative endeavor, he has since branched out to host the nationally syndicated radio show House of Hair, which is broadcast on more than 200 stations in North America; write, produce, and star in the highly influential horror film Dee Snider's StrangeLand; and appear on television shows The Celebrity Apprentice, Gone Country, Rock the Cradle, Growing Up Twisted, Celebrity Wife Swap, and Celebrity Holiday Homes. He has also starred in the Rock of Ages musical on Broadway, written his autobiography Shut Up and Give Me the Mic, and played himself in the VH1 film Warning: Parental Advisory, which chronicled the Congressional record labeling hearings of the 1980s. He continues to perform both solo and with Twisted Sister, and his musical Dee Snider's Rock 'n' Roll Christmas Tale is slated to open on Broadway in Chicago this fall with a move to New York in 2015.
The Harry Chapin Memorial Humanitarian Award was created in 1981 to honor the legacy of folk-rock singer-songwriter Harry Chapin, who fought tirelessly to end world hunger and received the Congressional Gold Medal in 1987 for his philanthropic work. He played a major part in the creation of the Presidential Commission on World Hunger in 1977 and co-founded the charitable organization World Hunger Year, which received the proceeds from merchandise sales at his concerts. Chapin wrote the #1 hit "Cat's in the Cradle"; top 40 singles "Taxi," "W*O*L*D," and "Sequel"; and scored a Gold album with 1974's Verities & Balderdash. Previous recipients of the Award have included Annie Lennox, Melissa Etheridge, Norman Lear, Jackson Browne, and Bonnie Raitt.
Music Biz 2014, which will be held May 6-8, is the music industry's premier event, giving the commerce and content sectors a place to meet with trading partners, network with new companies, and learn about new trends and products impacting the music business.