300 Entertainment's Kevin Liles to Discuss Record Label Evolution at NY:LON Connect 2020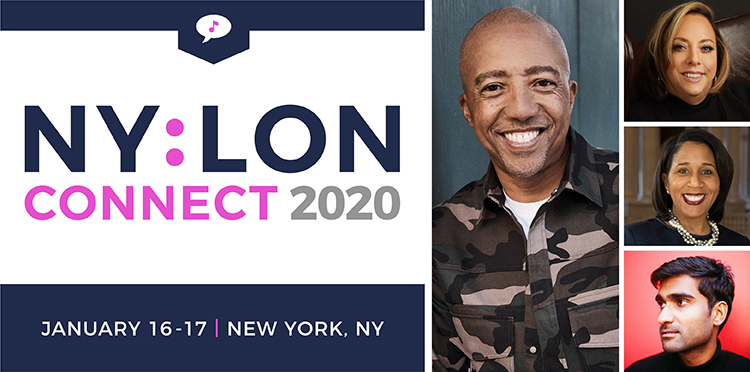 Program also adds Singer-Songwriter Prateek Kuhad, MLC Chairman
Alisa Coleman, and U.S. Copyrights Register Karyn Temple 
November 7, 2019 — The Music Business Association (Music Biz) and Music Ally today announce that 300 Entertainment Co-Founder and CEO Kevin Liles will deliver a keynote interview that will open the Label Evolution program track at the fourth annual NY:LON Connect Global Music Business Summit. Sponsored in part by Dataclef, Gracenote, AdRev, DataArt, FUGA and MQA, the summit takes place January 16 – 17, 2020 at the Dream Downtown Hotel in New York City.
Liles founded 300 Entertainment based on the pioneering concept of a digital-conscious record label. Under his leadership, 300 has accumulated more than 100 RIAA gold, platinum and multi-platinum certified singles and over 16 billion cumulative streams, with streaming comprising nearly 90% of the label's revenue. In the interview, Liles will discuss how 300's truly independent spirit has disrupted the traditional label structure, the ways the company has bolstered creativity for the artists they work with, and the overwhelming success they found when partnering with the right industry entities.
"Kevin is an industry innovator through and through, and someone we feel truly embraces our mission of pushing for collective growth across all facets of the business," commented Music Biz President Portia Sabin. "His work establishing 300 Entertainment as a powerhouse in the independent sector, not to mention the strong revenue streams he built while with Def Jam and WMG, showcase why he's the perfect person to speak on this topic."

"We are incredibly excited to have someone with as much know-how and experience as Kevin to kick off our Label Evolution track for NY:LON Connect," said Music Ally CEO and Co-Founder Paul Brindley. "He joins an agenda with a broad range of high-level industry executives that we are confident will inspire productive discussions on how to move the industry forward."

In addition to Liles' keynote interview, Music Biz and Music Ally can also confirm the addition of two high-profile programs that are sure to inspire discussion about the future of our industry:
As part of the Global Streaming track, Singer-Songwriter

Prateek Kuhad

, who quickly became Spotify's highest-streamed artist in India shortly after their launch in the region, will give his perspective on the opportunities and challenges that the global streaming market present to up-and-coming artists in a sit-down conversation with his manager,

Nicole Barsalona

, director of

Everyday Rebellion Entertainment and President of Women In Music

.

During the Publishing & Rights track,

Karyn Temple,

Register of Copyrights for the

U.S. Copyright Office

, and industry veteran

Alisa Coleman

— COO of

ABKCO Music & Records, Inc.

, president of the NY Chapter of the

AIMP

, and newly appointed Chairman of the

Mechanical Licensing Collective

(

MLC

) — will discuss the Music Modernization Act, the next steps in its implementation, and its connection with the global music industry.
In addition to these just-announced featured speakers, the following panelists have also joined the NY:LON 2020 agenda:
Jorge Brea, Founder and CEO of Symphonic Distribution

Cindy Charles; Principal, Music Partnerships & Operations for Twitch

Helena Kosinski, VP Global for Nielsen

Anca Lupes, President of RAW Music and Founder of Mastering The Music Business

Vickie Nauman, Principal and Owner of CrossBorderWorks 

Molly Neuman, President of Songtrust

Scott Ryan, VP Music of Gracenote

Anna Siegel, SVP Americas of FUGA

Melissa Thomas, SVP of International Marketing for Columbia/Epic
Already announced, NY:LON Connect 2020 will feature keynote interviews with Spotify's Cecilia Qvist, YouTube Music's Sun Lee, Warner Music Group's Scott Cohen, and Q&A's Troy Carter. For more NY:LON Connect 2020 details, sponsorship information, and to register, visit nylonconnect.com.

About NY:LON Connect
Hosted by the Music Business Association (Music Biz) and Music Ally, the NY:LON Connect summit alternates between London and New York each year to unite the global music business community. The summit is strategically planned for January to set a common agenda around what issues the global industry must face in the new year. The five programming tracks for NY:LON Connect 2020 represent the biggest opportunities the industry will encounter in the next calendar year — Emerging International & Influential Markets; Technology, Innovations & Startups; Publishing & Rights; Global Streaming; and Label Evolution. 
About the Music Business Association
The Music Business Association (Music Biz) is a not-for-profit membership organization that advances, promotes and invests in the future of the music business by providing a trusted forum where ideas and cooperation flourish. Through events, education and engagement, Music Biz brings together the full breadth of the industry for unparalleled access to networking, resources and thought leadership.
About Music Ally
Music Ally has been covering the music industry's fast-moving digital developments since 2002. Known as a digital thought leader in the global music business, our clients span the music and technology sectors, including all of the major labels and indies, music publishers and collecting societies, music platforms like Spotify and Deezer, and tech giants like Google, Facebook and Microsoft. We are the leading periodical on the new music business, enabling companies to understand the landscape and effectively operate through marketing, training and advisory services. We also collaborate with global events and produce our own conference, awards and networking events.
For Media Inquiries:  
Kiva Kamerling
The Press House
kiva@thepresshouse.com
347-804-4675