Waterloo's John Kunz to Receive Independent Spirit Award at Music Biz 2015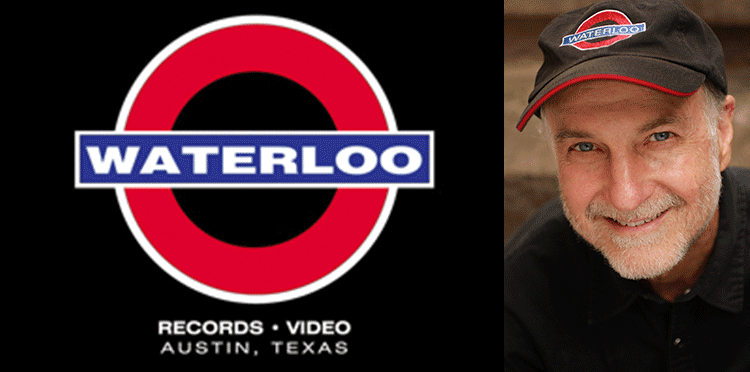 November 13, 2014 – The Music Business Association (Music Biz) will present its prestigious Independent Spirit Award to John T. Kunz, Owner and President of Austin's iconic independent record store Waterloo Records & Video Inc. and an over 40-year music industry veteran, on May 13 at the main Business Session of Music Biz 2015, which will be held at the Sheraton Nashville Downtown Hotel in Nashville. The Independent Spirit Award was established in 2009 to recognize significant contributions to the independent music community that embody the spirit of new thinking, entrepreneurship, and success in the industry. 
Kunz's customer-friendly policies, including the ability to open and listen to any record before buying and to return albums for any reason within 10 days, have led to a successful four-decade-plus career in the music retail industry, including over 30 years with Waterloo. Established in 1982, the store has been named Best Record Store for 32 consecutive years in the Austin Chronicle Readers' Poll. It was also voted Retailer of the Year six times by Music Biz (then-NARM) members and has been featured in Best Record Store lists from Rolling Stone, NPR, The New York Times, The Economist, Vanity Fair, the BBC, Spin, and more.
"With Waterloo Records, John has played a key role in keeping Austin's rich musical tradition alive, while also pushing it forward," said James Donio, President of Music Biz. "He has long placed a premium on promoting local musicians, boasting a huge selection of independent releases along with rare imports, earning him an Austin Icon Award in 2011. We're excited to celebrate him and his accomplishments at Music Biz 2015."
"Music Biz has been a key ally for Waterloo over the years, helping us find solid footing within the industry as we strove to provide the best possible store for music lovers," said Kunz. "When Waterloo first opened, many people said our policies would never work, but we're happy to see that music fans keep coming back for our experience, customer service, and vast selection. Based on what I've seen with this decade's vinyl renaissance, independent retail is strong and getting stronger. I'm thrilled to have been in the business all these years and look forward every day to working alongside the greatest record store team on the planet, serving the best music fans any store could have at Waterloo."
Kunz got his start in 1973 as a part-time sales clerk at Disc Records, eventually working his way up to store manager in 1975, where his location was the first in the 45-store Disc chain to reach $1 million in sales for the year. In 1976, he was named manager of the chain's first Zebra Records store and became a regional manager in 1980, assuming responsibility for 13 Texas-based stores.
He left the chain in 1982 with dreams to start his own business. Kunz teamed with Louis Karp for the first five years at Waterloo Records, the first record store in Texas to import and stock CDs.  Kunz was instrumental in securing a partnership between Waterloo and the major labels, allowing them to expand their offerings and to bring in major acts such as Willie Nelson, Sheryl Crow, Los Lobos, Ben Harper, the Dixie Chicks, Nirvana, Lyle Lovett, and Spoon to play in-store performances. In 1988, he entered the label business by co-founding  Watermelon Records. The label released over 65 albums from acts such as Alejandro Escovedo, Don Walser, Santiago Jimenez Jr., the Austin Lounge Lizards, and more before being sold to the Texas Music Group.
In 1995, Kunz was a co-founder of the Coalition of Independent Record Stores (CIMS) and served several terms as a Board Member. Kunz has also been a Board of Directors member at NAIRD and AFIM and has been a founding Board Member of the Health Alliance for Austin Musicians (HAAM) and Austin Music People.
Past recipients of Music Biz's Independent Spirit Award include Jonathan Poneman, Co-Founder of Sub Pop Records; Brett Gurewitz, Epitaph Records Founder and Bad Religion singer/guitarist; Rachelle and Joe Friedman, founders of J&R Music & Computer World in New York; Tom Silverman, Founder and CEO of Tommy Boy Entertainment; and Don Van Cleave, formerly the President of CIMS, a co-founder of Record Store Day.
Music Biz 2015, which will be held in Nashville for the first time in Association history from May 12-14, is the music industry's premier event, giving the commerce and content sectors a place to meet with trading partners, network with new companies, and learn about new trends and products impacting the music business. Registration is available now, with early bird discounts available until March 8. For more information or to sign up for the conference, visit Music Biz 2015.