How To Measure A Hit: Music Biz 2015 To Examine Future of Music Consumption Measurement With Data-Focused Town Hall, Sessions, and More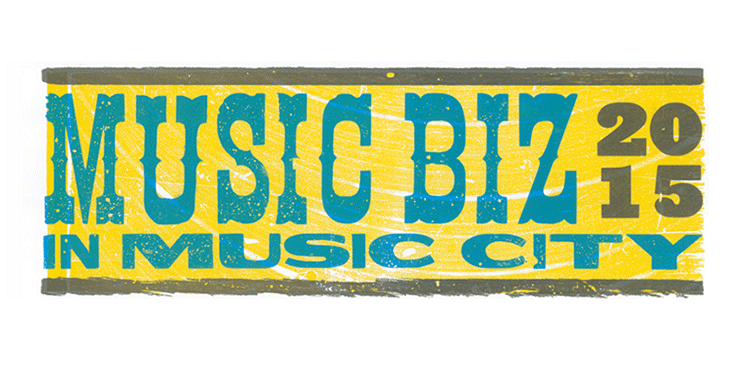 Audiomonitor, Billboard, Border City Media, Country Music Association, MIDiA Research, MusicWatch, Nielsen Music, RIAA, Shazam, Spotify, Vevo, and more set to address digital data issues
April 20, 2015 – The Music Business Association (Music Biz) will gather some of the industry's top data decision-makers and analysts to discuss the future of sales measurement at a variety of sessions to be held throughout the annual Music Biz 2015 conference on May 12-14 at the Sheraton Nashville Downtown Hotel in Nashville. These include the Metrics & Sales Analysis Town Hall on May 12 from 3:45 p.m. to 6 p.m.; the Streaming by the Numbers sessions on May 13 from 3:15 p.m. to 4:45 p.m.; the Bands, Brands, and the Data Behind the Partnerships sessions on May 14 from 3:30 p.m. to 5:30 p.m.; the Country Music Meetup on May 13 from 4:30 p.m. to 6 p.m.; and Vevo's "Selling Music Through Sight, Sound, Motion (& Timing)" session on May 13 from 2:40 p.m. to 3:15 p.m. "Music sales measurement has made significant strides this year, including the addition of streaming numbers and digital track sales on the Billboard 200 chart for the first time ever," said James Donio, President of Music Biz. "Accurate and complete metrics are crucial to the future of the music business, as they allow us to make decisions with a full picture of the industry's health in mind. We're happy to welcome all of the innovative companies set to address this issue at Music Biz 2015 and look forward to a stimulating discussion."
The Metrics & Sales Analysis Town Hall will feature presentations from MusicWatch, Border City Media, Spotify, and Nielsen Music, who will each reveal new data sets that showcase their service's abilities and provide unique insights into today's marketplace and consumers. The event will wrap up with a live Q&A hosted by Larry Miller of New York University's Steinhardt Department of Music, during which each company's representatives will discuss the role of data in today's music business and answer questions from audience members.
MIDiA Research's Mark Mulligan and Billboard's Glenn Peoples will lead the Streaming by the Numberssessions, with Mulligan discussing the next generation of streaming business models and Peoples explaining why streaming could soon lead to revenue increases for the music biz. Spotify's Les Hollander will then sit down with Triton Digital's John Rosso to talk about current streaming service data and what it means for the future of music listening.
The Bands, Brands, and the Data Behind the Partnerships sessions will focus on how music consumption data can be used to make better decisions regarding brand partnerships. U.S. metrics company Audiomonitor will be on hand to present data on music-listening market share and consumer behavior and discuss how it relates to brand advocacy and social media, while Nielsen Music will pull back the curtain on new opportunities made possible by big data.
In addition, Shazam will join the Country Music Meetup to share music ID data from TV awards shows, including the CMA Awards, and explain how that can be used to drive music sales.
Vevo will also host the "Selling Music Through Sight, Sound, Motion (& Timing)" panel to explore data showing the prominent place music videos hold in today's music industry as one of the most important marketing components for an album release.
Admission to all of the data-centric sessions mentioned above is included in the registration price for the full Music Biz 2015 event.
The currently confirmed agenda for Music Biz 2015's data-centric sessions is below.
Tuesday, May 12
3:45 PM – 6:00 PM
Metrics & Sales Analysis Town Hall

3:45 PM – 3:55 PM
Review of 2014 US Music Industry Revenues
The RIAA recently released their report on recorded music revenues and shipment information for 2014. The report includes data on key music formats like digital downloads, subscriptions, and streaming plus CDs, vinyl, and more.
3:55 PM – 4:15 PM
Eight Shades of Grey: A Consumer Perspective on Music
Industry conversations are heating up around the value of free streaming, payment, windowing, and exclusives. We hear the perspectives of artists and executives, but where does the consumer stand? The MusicWatch talk will explore a variety of today's issues from the perspective of consumers, based on their opinions and behaviors, and how these should play into growth strategies.
Russ Crupnick, MusicWatch
4:15 PM – 4:35 PM
Performance Analytics Using Sales, Streams, and Airplay
New analytical tools utilizing physical and digital sales, streaming, and airplay provide unique views as to artist, album, and song performance. Border City Media, creators of the new BuzzAngle Music service, will explore some of the ways these tools are helping make decisions in radio airplay programming, touring, and A&R.
Jim Lidestri, Border City Media
4:35 PM – 4:55 PM
The Economics Behind the Services
Dig into the numbers behind the streaming services to better understand access-based music consumption.
4:55 PM – 5:15 PM
The Fan: Understanding How They Drive Change
The music business is undergoing big changes, and music consumption is only part of the story. To see the big picture, we must recognize what's driving change — the fan. This session offers an overview of the state of music — past, present, and future — and highlights changes in the industry. Nielsen will take a rich view of fans, including insights across specific genres, consumer segments, talent analytics, case studies, and cross-channel consumption to understand how they are engaging with music.
David Bakula, Nielsen Music
5:15 PM – 6:00 PM
Q&A: Live with Larry Miller
Larry Miller, former MediaNet GM and now professor at NYU's Steinhardt School, will be joined on stage by the data providers as well as reps from the label and manager community. The group will react to the data presented earlier and discuss how top decision-makers use and analyze data about music, music discovery, and music consumption in an effort to drive competitive advantage.
Moderator: Larry Miller, New York University – Steinhardt Department of Music
Wednesday, May 13
2:40 PM – 3:15 PM
Selling Music Through Sight, Sound, Motion (& Timing)
In the dawn of music television, music videos were invented as promotional "commercials" for songs and albums. Fast forward 35 years to the digital age and music videos have proven to be an important revenue stream for artists. But their place in an album's promo campaign has gotten even stronger with many artists choosing to release music via video at the same time the audio is heard for the first time. In this session, we'll explore some real data demonstrating how music videos have become more popular than ever with artists and fans, and how they have become one of the most important marketing components for an album release. We'll also look at the rise of "sleeper" videos and how they contributed to the organic development of artists like Meghan Trainor and Iggy Azalea. Finally, we'll look at the monetization opportunities music videos create for artists and brands and why more opportunities for brands = greater revenue for artists.
John Brauer, Vevo
Adam Smith, Vevo
3:15 PM – 4:45 PM
Streaming by the Numbers
3:15 PM – 3:55 PM
Where Does the Streaming Road Lead? A Case for a New Generation of Streaming Business Models
2014 was a big year for streaming. 2015 is going to be bigger. But most of the big questions of 2014 remain unanswered and the disruption will intensify. A comprehensive reassessment is required of what role streaming should play, of how to balance out the marketing and revenue capabilities of the rapidly growing marketplace. But with the discovery end game now often another stream instead of a sale, new monetization opportunities and pricing models need to be explored. In this presentation, MIDiA analyst Mark Mulligan will present a vision for a next generation of streaming business models and how streaming can best be harnessed to drive growth across music's value chains.
Mark Mulligan, MIDiA Research
3:55 PM – 4:10 PM
Don't Fear the Streamer
Some people are worried about streaming revenues, but there's reason to see hope in today's access-based models. On a per-hour basis, subscription services pay rights holders better than radio, Internet radio, and satellite radio. The big opportunity is listeners' switch from radio to digital services that pay better. As consumers spend more time with digital services and less time with radio, rights owners will benefit from a huge economic shift. And if digital services can make their way into the American mainstream, the dollars flowing due to the radio-to-digital transition will be even greater.
4:10 PM – 4:45 PM
Music Listening in 2015 and Beyond
Triton Digital and representatives from leading streaming services will discuss what we can expect from this next generation of music listening – where everything from the types of services we use, where we use them, content ownership, music curation, and monetization are primed for disruption. Revealing real-time statistics on listening trends from Triton's Webcast Metrics, panelists will break down what the numbers mean for the businesses and artists looking to turn up the volume on streaming.
Les Hollander, Spotify
John Rosso, Triton Digital
4:30 PM – 6:00 PM
Country Music Meetup
Country music continues its widespread popularity and ranks as one of today's healthiest music genres. From coast to coast, across income brackets, demographics, and in big and small towns, it is clear that Americans connect with Country and this shows in the numbers. Over 42% of Americans are considered Country music fans. Who is this Country music consumer and how do they discover music, how much do they purchase, and what is their preferred music format? CMA's Research department will share a current snapshot of these fans. The music discovery platform, Shazam, will share case studies from partnerships with CMA's successful TV show integrations, including the #1 rated CMA Awards, that include best practices and music sales drivers. CMA staffers will also share how the organization continues to heighten the genre globally and how you can become involved with this exciting segment of the music industry.
Nick Fishbaugh, Shazam
Brandi Simms, Country Music Association
Karen Stump, Country Music Association
Thursday, May 14
3:30 PM – 5:30 PM
Bands, Brands, and the Data Behind the Partnerships
3:30 PM – 4 PM
Big Data Means Big Opportunities
The music industry has seen a big shift with an increasing amount of brands and agencies activating around artists. From festivals to award shows, brands want in with music consumers, but they also want proof of ROI. This presentation will cover how brands, agencies, and artists are leveraging big data to plan, measure, and maximize music campaigns. Includes case studies, talent analytics, and brand affinity insights across key demographics and across fans of specific music genres and activities.
Moderator: Tatiana Simonian, Nielsen Entertainment
4:00 PM – 4:30 PM
Changing World of Music Consumption & Brand Advocacy
Known in the U.K. as much for their use of state-of-the-art technology to derive deep and meaningful consumer insights as they are for their excellence in data visualization, Audiencenet is making their entrance into the U.S. metrics market with Audiomonitor — a new and democratic measure of all audio consumption across the United States. The data presented here will reveal the true relationship and share of ear between music streaming, digital downloads, broadcast radio (on and offline), and physical formats before going on to look at specific behaviors of music consumers in relation to social media and brand advocacy.
Robert Delmonte, Audiencenet / Audiomonitor
David Lewis, Audiencenet / Audiomonitor
4:30 PM – 5:30 PM
Brands & Streams Align
The panel will address how we leverage music in the cloud to better serve the industry, musicians, writers, and consumers. We know that music on mobile devices is the most consumed content category. We will explore and better contextualize the experience via brand alignment, resulting in new revenue for artists.
Music Biz 2015, which will be held in Nashville for the first time in Association history on May 12-14, is the music industry's premier event, giving the commerce and content sectors a place to meet with trading partners, network with new companies, and learn about new trends and products impacting the music business. Registration is available now. For more information or to sign up for the conference, visit http://musicbiz2015.com.