'Best New Artist' GRAMMY® Nominee Meghan Trainor Joins 'Give the Gift of Music' Campaign, Launching 4th Annual 'Give the Gift of the GRAMMYs®' Contest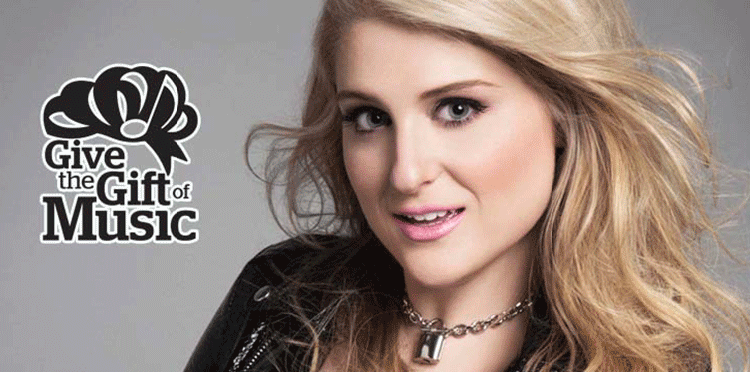 Winner Will Receive Two Tickets to the 58th GRAMMY Awards® and $1,000
---
MARLTON, N.J./WASHINGTON, D.C. – January 5, 2016: Kicking off the fourth annual "Give the Gift of the GRAMMYs" contest as part of its industry-wide Give the Gift of Music (GTGOM) campaign, the Music Business Association (Music Biz), and the Recording Industry Association of America (RIAA) today debuted a brand new video featuring Epic Records Multi-Platinum recording artist Meghan Trainor, who is currently nominated for Best New Artist at the 58th GRAMMY Awards and last year was honored with the Music Biz 2015 Breakthrough Artist of the Year Award. The video spotlights the significance of giving and receiving music as a gift and can be viewed now exclusively on givethegiftofmusic.info.
"My brothers gave me the first Britney Spears album … I got to hear amazing production skills, harmonies, and melodies that I fell in love with. I knew at that age I wanted to be a Pop star," says Trainor. To watch the full video, visit givethegiftofmusic.info.
The 4th annual GTGOM "Give the Gift of the GRAMMYs" contest asks fans to share how Trainor or another 58th GRAMMY Awards nominee's music (song, lyrics, performance, etc.) has inspired them and given them the gift of music. The grand prize winner will receive two tickets (courtesy of The Recording Academy®) to attend the 58th GRAMMY Awards in Los Angeles on Monday, February 15, and a cash prize of $1,000. Specific details on the contest, including deadlines, rules, and regulations, can be found at givethegiftofmusic.info/contests/2016-give-the-gift-of-the-grammys-contest.
The site also contains video contributions from other 58th GRAMMY Awards nominees such as Taylor Swift, Ed Sheeran, Little Big Town, Kelly Clarkson, Josh Groban, and more. A full list of nominees can be found at GRAMMY.com/nominees.
In the weeks leading up to the 58th GRAMMY Awards – airing live on Monday, February 15, at 8|7c on the CBS Television Network – music fans and consumers can further connect with the GTGOM campaign and its featured GRAMMY® artists on social media sites including Facebook (www.facebook.com/givethegiftofmusic) and Twitter (www.twitter.com/agiftofmusic).
Music Biz and the RIAA oversee the GTGOM campaign, which reminds consumers that they can now give the gift of music in more ways than ever, including physical, online, and mobile options (For a list of legal music buying options, visit whymusicmatters.com). A variety of industry organizations and more than 80 top musicians support the initiative and have helped spread the gifting message. Artists contribute original anecdotes to the givethegiftofmusic.info website that allow consumers to hear how music gifts have touched the lives of their favorite performers. Visitors can also share their own gifting memories, discover new music gift ideas, and share their music wish list with friends and loved ones all year long. In addition, industry groups have supported the campaign by using the GTGOM logo and website URL on their products, in advertisements, and on their websites.