2016 RIAA Shipment and Revenue Statistics Report: Comment from Music Biz President James Donio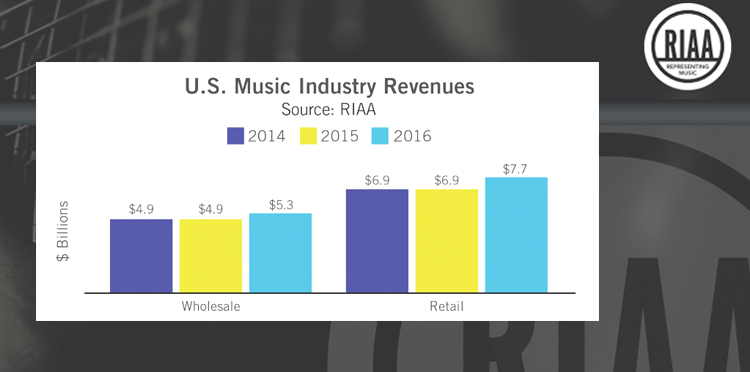 Music Biz President James Donio released the following statement regarding the 2016 RIAA Shipment & Revenue Statistics report released today:
In an accomplishment that illuminates a promising path forward, the U.S. music industry notched its biggest overall revenue growth in nearly two decades last year, according to the newly released 2016 RIAA Shipment and Revenue Statistics report. Total revenue was up 11.4% in 2016, reaching a total of $7.7 billion driven by massive growth in the streaming sector. In fact, it's the first time in history that streaming platforms have accounted for the majority of the industry's revenue with 51.4% of all income. It's an astounding number that is bolstered by an explosion in revenue from paid subscriptions, which more than doubled to $2.5 billion, or about one-third of the industry's total revenue. Total subscriber numbers also ballooned to 22.6 million, up 109% from 2015, in a year that saw more and more music fans signing up for on-demand services such as Spotify and Apple Music, which celebrates its first full year of operation. The gains were more than enough to offset revenue losses from digital downloads and physical retail, though vinyl continued its upward trajectory with 4% growth to $430 million in shipments. Vinyl now accounts for 26% of all physical retail shipments, its largest share since 1985 and further proof of the resiliency of physical retail. Altogether, these numbers prove that U.S. consumers remain hungry for music and point toward a future in which digital and physical work together to meet the needs of all music lovers."
Click here to access the 2016 RIAA Shipment and Revenue Statistics Report.