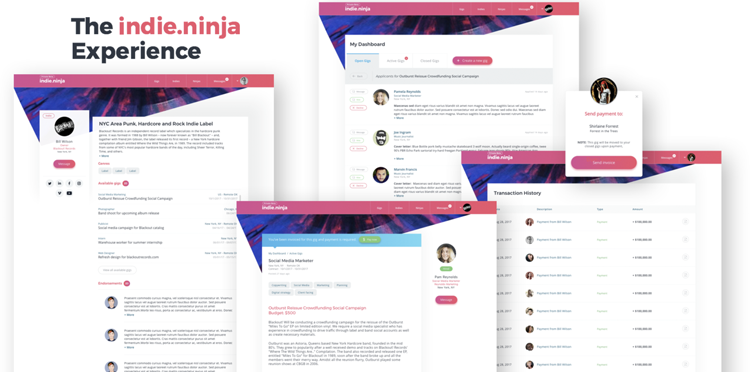 Music Biz would like to introduce you to one of our newest members, indie.ninja. Read further for detailed information and instructions for students, educators, and alumni to gain private beta access to the platform.
What Is indie.ninja?
indie.ninja is a recently launched online marketplace where labels, managers, and artists can find and hire students and alumni in various areas such as promotion, marketing, street teams, video editing, social media, live crew and more.
As students, building a meaningful resume and a network is key to your future success. indie.ninja not only provides a way to earn money but build that critical work history and expand your personal network to a growing pool of labels, managers, and artists.
How it Works 
A label, manager, or artist will post an available student gig to indie.ninja. As a student "ninja" you can find the opportunity by searching or receiving an email notification. To interview, you simply use the in-app chat, and once you've confirmed, your fee is billed to the client up front, and liquidated to you upon successful completion of the gig. This assures the mutual satisfaction of both parties in the transaction. indie.ninja charges you credit card fees and a small percentage of the total bill. As the nature of work in the industry continues to grow and change, indie.ninja is dedicated to providing digital nomads and freelancers with the tools they need to get to work.
Educators: Want more information? Contact laurens@indie.ninja.