Record-Breaking Film Soundtrack 'Frozen' to Be Honored with Music Biz Outstanding Achievement Award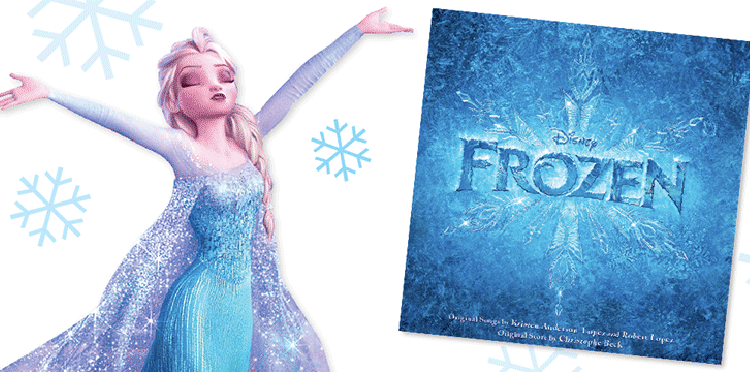 April 23, 2014 – The Frozen soundtrack, the record-breaking Double Platinum-and-counting album spawned from the Oscar-winning hit animated film, will receive the Music Business Association's (Music Biz) Outstanding Achievement Award at the Music Biz 2014 Awards Luncheon on May 8 at the Hyatt Regency Century Plaza Hotel in Los Angeles. The soundtrack has spent 11 nonconsecutive weeks at the top of the Billboard charts, breaking The Lion King's record for most weeks at #1 for an animated film soundtrack. It's also the longest reign for any album since Adele's 21 back in 2011 and 2012.
"We couldn't be more excited to celebrate the tremendous achievements of the Frozen soundtrack, which has risen above the pack to become the defining album of 2014 so far," said James Donio, President of Music Biz. "The unstoppable hit 'Let It Go,' sung by Tony Award winner Idina Menzel, has catapulted the record into the chart stratosphere, and the song's continuing presence in the Billboard Hot 100 Top 10 has fueled the album's record-breaking stay at the top of the charts. The soundtrack is showing no signs of slowing down, and we're excited to see what further achievements will be added to the list before the award presentation."
"It's an honor to have the Frozen soundtrack recognized by the Music Business Association," said Curt Eddy, SVP of Sales for the Disney Music Group. "The film and its soundtrack have taken their place alongside the best of Disney's classic animated musicals, from The Lion King to Beauty and the Beast to Tangled, and we're thrilled to continue building on the success of Frozen, both in theaters and on the charts."
After its release in November 2013, the Frozen soundtrack debuted at #18 on the Billboard charts and slowly built its way to #1, finally topping Beyoncé's self-titled album in January 2014. Since then, the soundtrack has maintained a constant presence at the top of the tally, ultimately selling 2.3 million copies in the U.S. The record was spurred on by the massive success of the Frozen film, which is the highest-grossing animated film of all time with over $1.1 billion worldwide and has won numerous awards, including the Oscar for Best Animated Feature, the Golden Globe for Best Animated Feature Film, the BAFTA Award for Best Animated Film, and more. The song "Let It Go," performed by Tony Award winner Idina Menzel, has also become a ubiquitous presence, reaching a peak position of #5 on the Billboard Hot 100, being certified Triple Platinum, and winning the Oscar for Best Original Song. The track's single version, performed by Demi Lovato, has also been certified Platinum. In addition, the Frozen soundtrack has more than 150 million streams on Spotify and half-a-billion views on YouTube across all content.