Music Biz Member Ingrooves Is Hiring — Social Media and Communications Manager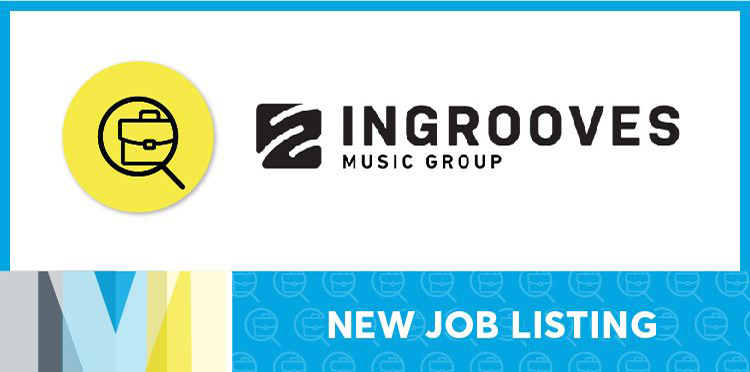 Ingrooves Music Group is a world leader in music distribution, marketing, and technology that empowers independent labels and entrepreneurs to grow their businesses and thrive in the global music industry. Ingrooves offers a comprehensive suite of solutions that includes marketing strategy, insights and analytics, rights management, advertising, royalty accounting, video monetization, and music licensing, all accessible through an intuitive client platform. The company has offices throughout the United States (HQ), Canada, Latin America, Europe, Africa, Asia, and Australia. Operating everywhere music is streamed, Ingrooves is part of Virgin Music Group, the newly formed global independent music division of Universal Music Group.


How we LEAD:
The Social Media Manager is responsible for growing the Ingrooves brand across our social accounts. The role is responsible for strategic campaign planning and content creation to create brand awareness, engagement, and to further solidify Ingrooves as an industry leader.


How you'll CREATE:
Be the company's voice on social media by creating and posting compelling content across relevant platforms: Instagram, Twitter, Facebook, LinkedIn, TikTok.
Establish Ingrooves as a leader in the industry, maintaining brand consistency across global accounts.
Liaise with content leads across the global organization around company initiatives, events, and priorities.
Create creative and on-brand social media copy.
Maintain global content calendar and posting schedule.
Engage with followers and respond to inquiries to actively grow our following and increase engagement.
Cross-collaborate with communications team on content marketing via the company blog and internal & external newsletters.
Research social marketing opportunities.
Analyze social media analytics to pivot strategies as needed.
Stay up to date on emerging social trends and features.
Additional duties as assigned.


Bring your VIBE:
Must be a social media native and an expert in using Instagram, Facebook, Twitter, and LinkedIn
2+ years of social media experience.
Excellent communication skills.
Ability to work closely with multiple stakeholders.
Ability to liaise with a high level of professionalism across multiple departments and global territories.
Requires an attention to detail and accuracy.
Ability to stay self-motivated and deliver on task.
Proficient in creative, workflow and analytic software such as Monday, Airtable, Miro, Buffer, Hootsuite, Google Analytics, Adobe Creative Suite, Canva, Sketch, and PowerPoint.
Brand, music industry, or entertainment experience a plus.


Perks Playlist:
Competitive Compensation Package including Salary, Benefits and Generous 401k Savings Plan with company matching
Flexible Paid Time Off plus Paid Holidays, 2 week "Winter Break" & Wellness Fridays (year-round)
Medical, Dental and Vision Insurance
Student Loan Repayment Assistance & Tuition Reimbursement (after 12 months of service)
Robust Employee Assistance Program (for you and your loved ones
Annual Well-Being Allowance which includes Fitness, Travel, Home Enhancements, Nutrition, and Spa Treatment Reimbursements


Click here to learn more and apply.
Disclaimer: This job description only provides an overview of job responsibilities that are subject to change.


Universal Music Group is an Equal Opportunity Employer