Music Biz Adds Schoolkids Records and The Sound Garden To Board Of Directors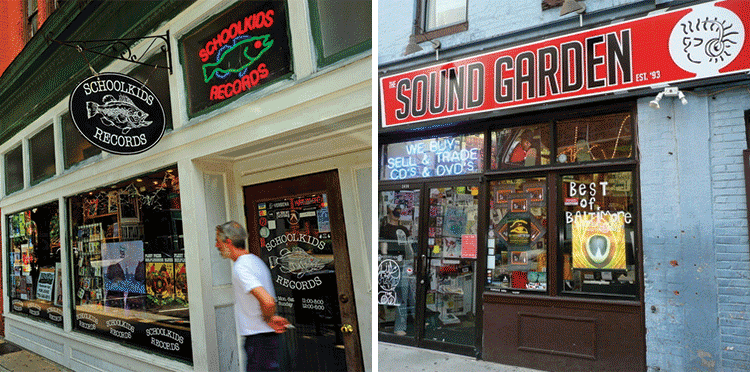 July 16, 2015 – The Music Business Association (Music Biz) has added two music industry veterans to its Board of Directors. Stephen Judge (Owner of independent record store Schoolkids Records, record label and management services company Second Motion Records, and influential music publication Blurt Magazine) and Bryan Burkert (Owner of independent record store The Sound Garden, dance club The Get Down, and music venue The Rockwell) will bring nearly four decades of combined experience to the Board, providing key insights on issues facing the music industry. They fill two Board positions that had been vacated due to concluded terms of service. 
"We are thrilled to welcome two such experienced and versatile music industry professionals to our Board," said James Donio, President of Music Biz. "Stephen and Bryan have blazed their own trails through many different facets of the business at indie retail, record labels, artist management companies, music distribution companies, concert venues, and nightclubs, giving them a well-rounded and unique viewpoint on the issues of the day. We look forward to working with them as Music Biz continues to help build the future of music commerce."
"I am honored to join the Music Biz Board and see this as the culmination of all the experience I have gained over the last 25 years," said Judge. "In addition to running a retail store, I have years of experience in artist management, distribution, marketing, publishing, label management, A&R, contract negotiations, and finance. I'm looking forward to listening and learning from my fellow Board members while contributing in a meaningful way with my diverse experience."
"The Music Biz board offers the opportunity for me to work with some seasoned veterans of the larger music industry," said Burkert. "As an independent store owner, sometimes it is difficult to see the bigger picture. Hopefully, my diversified experience in the entertainment industry will be a positive influence."
Judge began his career in 1990 as a part-time clerk at Raleigh, NC's Schoolkids Records, his childhood record store, quickly working his way up to full-time status and becoming a buyer for several of the store's locations. He went on to manage three of its locations and eventually purchase the store entirely in 2012, leading to its best sales year in a decade in 2014 and its best-selling day in history on Record Store Day 2015. He also spent seven years in artist management, working with Black Park Management from 1990-1993 and then striking out on his own to work with the bands Athenaeum, Collapsis, and Hobex. In this role, he secured a major-label contract for Athenaeum with Atlantic Records and EMI Publishing. Judge then entered the world of music distribution, joining Redeye Distribution in 2002 as Sales & Marketing Director. Over the years, he worked his way up to become A&R Director and eventually General Manager before leaving in 2008 to start his own record label and management services company, Second Motion Records. That year, he also joined Blurt Magazine as a consultant, attaining full ownership by 2010.
Burkert got his start in the music business in 1993 when he opened The Sound Garden in Baltimore, MD, eventually expanding to a second location in Syracuse, NY. The store has received more than 100 awards, including being named the second-best record store in the U.S. by Rolling Stone and third-best by GRAMMY.com. In 1996, he entered the live venue and nightclub management business, founding music venue Fletcher's Tavern, which hosted acts such as Ryan Adams, The Flaming Lips, The White Stripes, Linkin Park, The Killers, and more. The venue was named Best Live Music Venue in Baltimore by the Baltimore City Paper, Baltimore Magazine, and Baltimore Sun before closing in 2007. He also opened the nightclub ONE in 1999, which was named Best Nightclub in Baltimore and featured on popular HBO television show The Wire before closing in 2006. He currently operates The Get Down dance club and The Rockwell music venue, also in Baltimore, MD. He has also served as Chairman of the Department of Record Stores.
Music Biz's Board of Directors also includes:
Chairman
Fred Beteille
YouTube
Vice Chairman
Steve Harkins
Baker & Taylor
Treasurer
John Trickett
Immergent
Secretary
Ryan Redington
Amazon
Candace Berry
Universal Music Group
Christina Calio
Microsoft
Glenn Dicker
Redeye
Amy Dietz
INgrooves Music Group
Bruce Ogilvie
Super D/Alliance Entertainment
Dilyn Radakovitz
Dimple Records
Steve Savoca
Spotify
Matt Signore
Warner Music Group
Darren Stupak
Sony Music Entertainment
Colin Young
iTunes