[Music Biz 2018 Speaker Spotlight] Jay Gilbert, Label Logic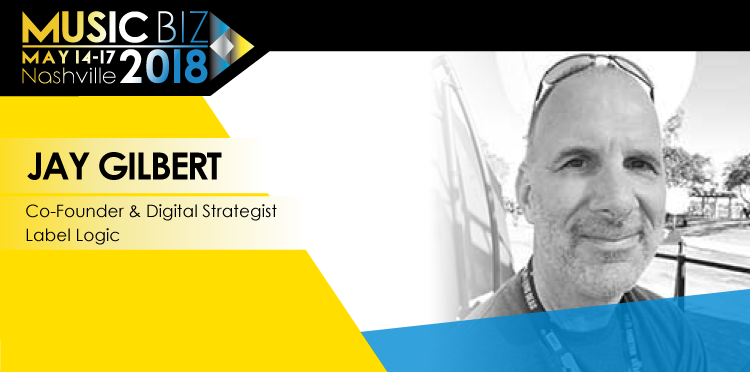 The Music Business Association is excited to welcome Jay Gilbert, Co-Founder & Digital Strategist of Label Logic for 'Paths To Playlists' on Thursday, May 17 at 9 AM during the Music Biz 2018 conference in Nashville! Check out the fun Speaker Spotlight below to get to know Jay a little more before his Music Biz panel.
What's that one song that has the power to get you through the work day? Describe it.
"Earthbound" by The Accidentals, which is from their album "Odyssey". In my mind, it's a song about overcoming adversity, being genuine, and fighting inner demons by staying strong. I'm inspired whenever it comes on.
If you could have front row tickets to any concert in any city at any venue — what and where would you choose?
Vintage Trouble at any venue. They LIGHT IT UP! If you can't have a good time at a VT show, you don't have a pulse. Great songs, killer vocals, skilled musicianship – the entire package.
What is your go-to playlist right now? When do you listen to it most?
I've had a POWER POP playlist that I've been building song by song for over 10 years.  It includes Owsley, Neil Finn, Posies, Jellyfish, Squeeze, Bleu, Fountains of Wayne, Cheap Trick, Tom Petty, Bobgoblin, and many others.
---
Music Biz 2018 — the Music Business Association's 60th anniversary conference — is set to take place Monday, May 14 through Thursday, May 17 at the Omni Nashville. The 4-day innovative event will bring together global power players and industry enthusiasts committed to the future of music monetization for 100+ panels, presentations, workshops, private meetings, cocktail parties, live music, and more.
Highlights will include keynotes from Pandora's Roger Lynch, mega-manager Scooter Braun, Republic's Wendy Goldstein; Digital Service Workshops with Amazon, Apple, Facebook, Pandora, SoundCloud, Spotify, and YouTube; Music's Leading Ladies Speak Out powered by Nielsen Music; the Awards Breakfast sponsored by CMA featuring special presentations to the RIAA's Cary Sherman and the Radakovitz Family of Dimple Records'; the Awards Luncheon sponsored by BuzzAngle Music & TiVo honoring breakthrough singer/songwriter Julia Michaels, Scooter Braun, Latin hit Despacito, and more to be announced. The full preliminary schedule can be accessed at musicbiz2018.sched.com.
Register today at musicbiz2018.com to join the 2,000+ attendees expected to descend on Nashville for the four most important days on the industry calendar!
Questions? Email Music Biz's Manager of Events, Sales, and Marketing at nick.maiale@musicbiz.org.