[Music Biz 2018 Speaker Spotlight] Cherie Hu, Billboard/Forbes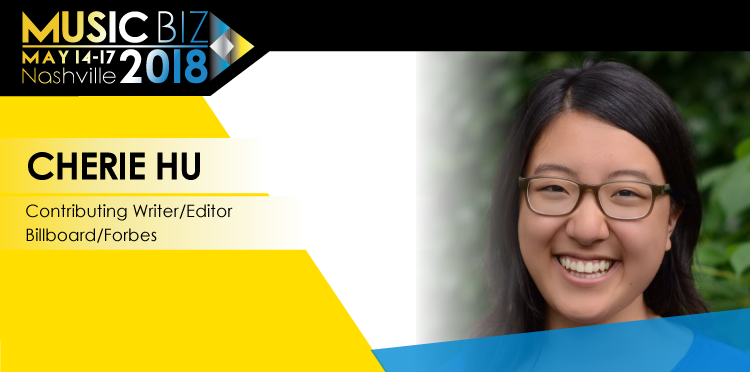 The Music Business Association is excited to welcome Cherie Hu, Contributing Writer/Editor at Billboard/Forbes for '#NEXTGEN_NOW: Young Voices Rewriting The Rules' on Tuesday, May 15 at 9 AM during the Music Biz 2018 conference in Nashville! Check out the fun Speaker Spotlight below to get to know Cherie a little more before her Music Biz panel.
Music Biz is celebrating its 60th year in 2018. How many Association conferences have you been to and what was your greatest memory? If it's your first — what panel/keynote/event, etc. (other than your own) are you most excited for?
I had the pleasure of moderating a panel about AI-generated music at the last Music Biz NY:LON Connect conference in NYC, but this will be my first Association event in Nashville — and my first time ever visiting the city! As a journalist hyper-specializing in business and tech, it's rare that I get to cover the creative process itself or adjacent social and political issues, so I'm especially excited for panels like "Trendspotting: The Power of Queer Storytelling in Song" that both highlight the work of award-winning songwriters and triangulate that talent with urgent socio-political movements.
If you could have front row tickets to any concert in any city at any venue — what and where would you choose?
I want to be in the front row for concerts at the new MSG Sphere venues, which are set to open in Las Vegas and London in 2020. If the Madison Square Garden Company can truly deliver on their vision for a fully immersive, interactive, augmented-reality theater, that reaches nearly 200 feet tall, with optimized sound design for every single seat, I think they will disrupt and elevate the standard for live performances across the board.
If you had to pick just one album to listen to for the rest of your life — what would it be and why?
Probably Kendrick Lamar's To Pimp A Butterfly, which was my gateway into hip-hop. I was in the middle of a jazz/funk listening phase when that album came out, and was surprised to see artists like Kamasi Washington, George Clinton and Thundercat featured at the forefront from the very first track. It also convinced me albums can still have enduring power, both creatively and commercially, if artists take the storytelling seriously.
---
Music Biz 2018 — the Music Business Association's 60th anniversary conference — is set to take place Monday, May 14 through Thursday, May 17 at the Omni Nashville. The 4-day innovative event will bring together global power players and industry enthusiasts committed to the future of music monetization for 100+ panels, presentations, workshops, private meetings, cocktail parties, live music, and more.
Highlights will include keynotes from YouTube's Lyor Cohen, mega-manager Scooter Braun, Republic's Wendy Goldstein; Digital Service Workshops with Amazon, Apple, Facebook, Pandora, SoundCloud, Spotify, and YouTube; Music's Leading Ladies Speak Out powered by Nielsen Music; the Awards Breakfast sponsored by CMA featuring special presentations to the RIAA's Cary Sherman and the Radakovitz Family of Dimple Records'; the Awards Luncheon sponsored by BuzzAngle Music & TiVo honoring breakthrough singer/songwriter Julia Michaels, Scooter Braun, Latin hit Despacito, and more to be announced. The full preliminary schedule can be accessed at musicbiz2018.sched.com.
Register today at musicbiz2018.com to join the 2,000+ attendees expected to descend on Nashville for the four most important days on the industry calendar!
Questions? Email Music Biz's Manager of Events, Sales, and Marketing at nick.maiale@musicbiz.org.