Music Biz 2017 Speaker Spotlight: Marieke Bianchi, Warner Music Nashville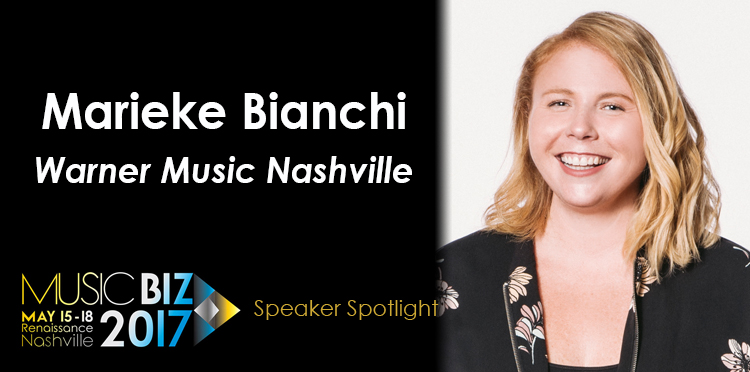 The Music Business Association is excited to welcome Marieke Bianchi, Sr. Director of Strategic Partnerships & Activations at Warner Music Nashville for 'Branded Artist Content: Its Value, Purpose and Potential' on Wednesday, May 17 at 3:15PM during the Music Biz 2017 convention in Nashville! Check out the fun Speaker Spotlight below to get to know Marieke little more before her Music Biz panel!
What's the first concert you ever attended OR what's the best concert you've ever attended? What did it mean to you and can you describe the experience?
When I was a freshman in high school I went to my first Dave Matthews Band concert. This was the beginning of a decade long obsession with all things DMB. I know within my generation this is not unique, but his lyrics and instrumentation meant so much to me. Specifically, "Crash" and "Live at Red Rocks" shaped who I was at that time and served as a soundtrack to many of my personal milestones in my teens and early 20s.
How did you know you wanted to get into the music industry? Or maybe you didn't?
I overheard my mother describe me as a "fan first" and I have used that to encapsulate my passion for the music industry. Even before I officially joined the ranks, I always tried to insert musical moments into my client activations and programs — strategically of course! It is very easy to get caught up in the chaos of live shows and tours, but I always commit at least five minutes at each event to stand and truly enjoy it. And I keep all my stubs and laminates … I can't help myself.
What's your favorite thing to do in Nashville — besides attend the Music Biz Convention?
I should say something more astute but EAT! Every time I have a visitor I tell them to "bring their eatin' pants." There is so much good BBQ, chicken, tacos, traditional Southern cooking and modern cuisine.

Who do you predict will be the biggest breakout artist in the next year or years ahead?
I am partial because of where I work but Devin Dawson is a recent member of our Warner Music Nashville family and he is destined for great things. His music and performance style is mesmerizing and passionate. I think he stands to break some molds and earn a lot of fans along the way.

What can attendees expect from your panel at Music Biz 2017?
Working on strategic partnerships has to be just that – strategic. Content continues to rise to the top as an important marketing vehicle, and bringing bands and brands together to create something new and innovative makes a partnership all that more comprehensive and impactful. We will spend our time discussing the value content provides to partnerships and ways to make everything come together seamlessly.
---
Music Biz 2017, the industry's premier convention, is set to bring together 1,500+ music industry professionals from across the globe Monday, May 15 to Thursday, May 18 in Nashville at the Renaissance hotel. The "four most important days on the industry calendar" will include 100+ panels; workshops with Apple, Amazon, Google/YouTube, SoundCloud, Spotify, and Pandora; meetups; mixers;live music; awards honoring Adele, Lukas Graham, Maren Morris, Paula Abdul, Hamilton, Reba McEntire & more; keynotes from Spotify's Troy Carter & Atlantic's Julie Greenwald; and so much more.
Visit musicbiz2017.sched.com for the full schedule and musicbiz2017.eventbrite.com to register!
Questions? Reach out to Music Biz's VP of Communications Nicole Hennessey at nicole.hennessey@musicbiz.org today!