Music Biz 2017 Speaker Spotlight: Lucia Kaminsky, Borman Entertainment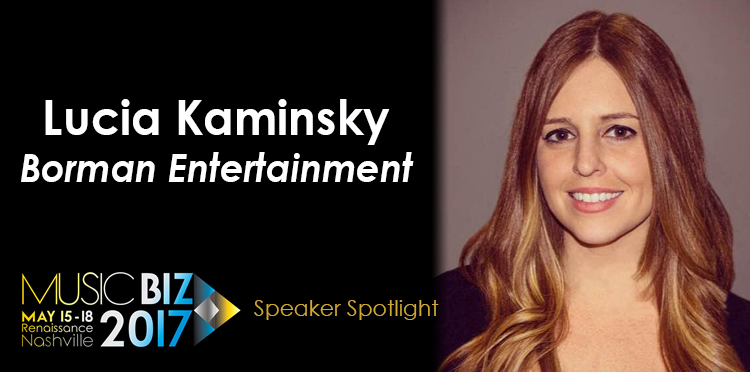 The Music Business Association is excited to welcome Lucia Kaminsky, Head of Digital at Borman Entertainment for 'Careers in Music: A Survey of Jobs in a Fast-changing Music Industry' on Tuesday, May 16 at 9:30 AM during the Music Biz 2017 convention in Nashville! Check out the fun Speaker Spotlight below to get to know Lucia little more before her Music Biz panel!
What's the first concert you ever attended OR what's the best concert you've ever attended? What did it mean to you and can you describe the experience?
My first memorable concert was The Rolling Stones with Smashing Pumpkins when I was 13. I went with my mom because she was dying to see The Stones so it worked out in my favor. I remember being aware of the demographic and thinking that it was smart that they paired them with the Smashing Pumpkins. I actually ended up writing an article that was published in The Miami Herald about the experience entitled "Going to a Concert with Mom." What a nerd!
How did you know you wanted to get into the music industry? Or maybe you didn't?
My father was in the music business for most of his life so it was always something that I saw myself doing. I remember being so interested in learning about what happens behind the scenes but didn't know how to get that access. When I was 15 I saw an opportunity — with the advent of the internet, online music magazines were just starting to pop up so I reached out to a company out of Orange County that only had a news section and asked if I could start an interview column. I would call the labels and get the interviews/access myself and in exchange, the editor would publish my articles and photos. My first big assignment was Ozzy Osbourne's Ozzfest and I remember being petrified while talking to Rob Zombie. I never told the editor how old I was and continued to write for that magazine through college. 
What's your favorite thing to do in Nashville — besides attend the Music Biz Convention?
Having grown up in Miami, I like to go to Percy Priest lake in the Summer and pretend I'm at the beach! I also love the flea market and usually end up finding the heaviest/oldest thing possible to bring home. 

What can attendees expect from your panel at Music Biz 2017?
I'm participating in the "Careers in Music: A Survey of Jobs in a Fast-Changing Music Industry" moderated by Ben Yonas from my alma mater. I'm not sure what Ben has up his sleeve for this panel but you can definitely expect it to be honest! I believe the audience will be mostly students so I'm excited to hear which professions they're interested in and hope we can help direct them on the right path.
---
Music Biz 2017, the industry's premier convention, is set to bring together 1,500+ music industry professionals from across the globe Monday, May 15 to Thursday, May 18 in Nashville at the Renaissance hotel. The "four most important days on the industry calendar" will include 100+ panels; workshops with Apple, Amazon, Google/YouTube, SoundCloud, Spotify, and Pandora; meetups; mixers; live music; awards honoring Reba McEntire, Adele, Lukas Graham, Maren Morris, Paula Abdul, Hamilton & more; keynotes from Spotify's Troy Carter & Atlantic's Julie Greenwald with Kelly Clarkson; and so much more.
Visit musicbiz2017.sched.com for the full schedule and musicbiz2017.eventbrite.com to register!
Questions? Reach out to Music Biz's VP of Communications Nicole Hennessey at nicole.hennessey@musicbiz.org today!