Music Biz 2017 Speaker Spotlight: Dick Wingate, DEV Advisors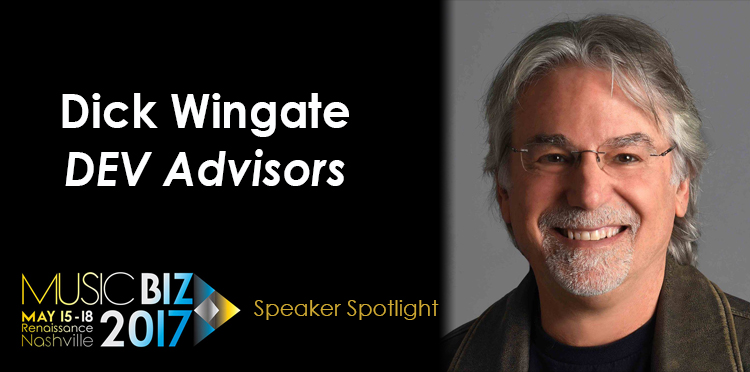 The Music Business Association is excited to welcome Dick Wingate, Principal, DEV Advisors for 'Investing, Incubation & Funding for Music Startups' on Thursday, May 18 at 11 AM during the Music Biz 2017 convention in Nashville! Check out the fun Speaker Spotlight below to get to know Dick little more before his Music Biz panel!
Have you ever been to the Music Biz convention? If so, what's your favorite memory from the event? (panels, awards, performances, location, funny story, etc.)?
I have been to several of Music Biz's conventions and many of NARM's before that. I dug the Chairman's Award for Sustained Creative Achievement given to Cheap Trick last year, who I had the pleasure to know in their peak fame days while at Epic Records. It was a wonderful reunion with some real pros.
What's the first concert you ever attended OR What's the best concert you've ever attended? What did it mean to you and can you describe the experience?
In my teens I was lucky enough to see The Doors, Cream, Jeff Beck with Rod Stewart and The Rolling Stones. Needless to say, they were all seminal experiences.

How did you know you wanted to get into the music industry? Or maybe you didn't?
I was hooked the minute I went on the air as a DJ at WBRU-FM, the Brown University radio station.
What panel, presentation, event, etc. (other than your own) are you looking forward to the most at Music Biz 2017?
I am looking forward to the Keynote with Troy Carter of Spotify.
---
Music Biz 2017, the industry's premier convention, is set to bring together 1,500+ music industry professionals from across the globe Monday, May 15 to Thursday, May 18 in Nashville at the Renaissance hotel. The "four most important days on the industry calendar" will include 100+ panels; workshops with Apple, Amazon, Google/YouTube, SoundCloud, Spotify, and Pandora; meetups; mixers; live music; awards honoring Reba McEntire, Adele, Lukas Graham, Maren Morris, Paula Abdul, Hamilton & more; keynotes from Spotify's Troy Carter & Atlantic's Julie Greenwald with Kelly Clarkson; and so much more.
Visit musicbiz2017.sched.com for the full schedule and musicbiz2017.eventbrite.com to register!
Questions? Reach out to Music Biz's VP of Communications Nicole Hennessey at nicole.hennessey@musicbiz.org today!