[Keeping Tempo With Music Biz] — Navigating Modern Music Copyright Law: An Interview with Cosynd's Liz Cimarelli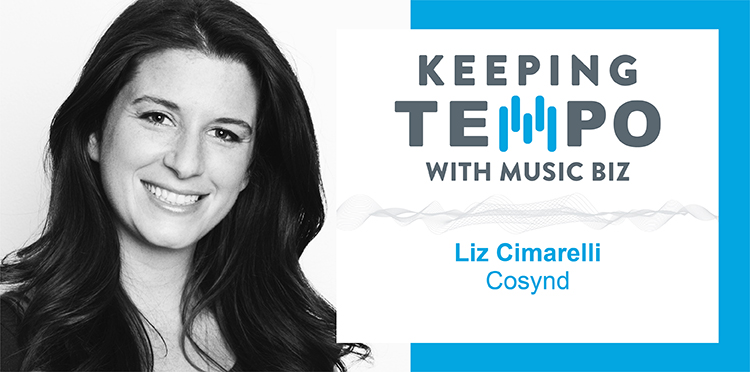 Basic copyright protection should be affordable and accessible to all creators, but unfortunately that's not always been the case. Cosynd was created to turn the lengthy, bureaucratic, and expensive process of copyright protection into one that is intuitive, cost-competitive, and time-saving by simplifying two essential tasks — establishing ownership of copyrights and seamlessly registering them with the U.S. Copyright Office. We sat down with Cosynd's COO and Head of Business Development, Liz Cimarelli, to shed more light on the critical steps that copyright owners must consider to keep their businesses afloat in today's evolving legal landscape.


Music Biz: The music industry of 2022 has so many more options for content monetization than ever existed before. Can you talk about the vital role copyright laws play in securing an artist's income from the content they create?
Liz Cimarelli: An artist's livelihood is their music, and each musical composition or sound recording they create is an asset that they can then monetize to produce revenue. But the only person who has the authority to monetize that asset is the owner or owners. If an artist wants to sell, license or monetize their content, protecting their work is the most critical step that they can take.
One of the most crucial ways to legally establish copyright ownership is to have proper agreements in place. This is the lifeline to an artist's income. It's ultimately the framework that is used for royalty distribution to the artist. These critical documents identify ownership and contributions for each collaborator and clearly define what can and cannot be done with that piece of content. Without an agreement in place, each collaborator, by default, will legally own an equal share of the content that was created together, regardless of how minor or major their contribution was.
Music consumption is at an all time high, which unfortunately comes with an increased risk of that content being stolen or misused. Registering with the U.S. Copyright Office (USCO) provides a public record of ownership and is one of the strongest forms of legal protection an artist can take against misuse of their work. Copyright registration is now a mandatory requirement before filing a lawsuit and doing so before an infringement takes place can grant payouts up to $150,000 per infringement plus legal fees. It's almost like taking insurance out on your music.


Music Biz: There's been a major push among music publishers, licensers and lawyers alike to ensure that artists file their copyrights well in advance to avoid potential issues later. Do you feel that the creator class is now more proactive about filing their copyrights in the here and now, or does more work need to be done to educate the creator class?
LC: We are certainly seeing a recent surge in registrations from copyright holders and artists, however, educating the creator communities on the importance of registration is still one of our biggest priorities to ensure that their work is safeguarded against infringement.
Part of the issue for this community is that copyright protection has historically been a complicated and expensive process and one that comes with a lot of misconceptions. Mailing yourself a copy of your work or storing your content in an encrypted cloud are not substitutes for a USCO registration and will not provide you with the same legal benefits. Another common misconception is that artists assume that their publisher, label, or PRO is taking care of the registrations for them; this is not something they should safely assume. In fact, when an administrator does take responsibility to file an artist's copyrights, the task is often left to an intern who has no prior registration experience, which sadly can lead to some pretty costly mistakes.
In many cases, we find that most catalog owners aren't even sure what copyrights, if any, had been previously registered. A lot of what we spend our time doing at Cosynd is assessing catalogs, not only to determine the amount of group applications that we can use that will save our clients the most money, but to also carefully check if the assets in a catalog have already been registered with the USCO and if so, ensure that they were correctly done.
With infringements on the rise, new mandatory requirements for registration and more ways for artists and copyright holders to seek compensation for misused or infringed works, the need to educate the music community about the importance of copyright registration is more important than ever!


Music Biz: On that note: It's now been three years since it was ruled that creators are required to file their works with the U.S. Copyright Office before they can file any infringement lawsuits. From your perspective, how do you view artists' understanding of and adherence to this guideline?
LC: Although we've seen a significant uptick in registrations over the last few years, we still have frequent conversations with both artists and business teams who are not aware of the changes in legislation. In fact, we've had quite a few instances recently where clients have come to us with a clear case of infringement, but their music wasn't registered so they couldn't pursue a lawsuit. Fortunately, we were able to expedite the registrations for them. However, that came with a pretty hefty filing fee. We're just now starting to see many of our business clients leveraging their registrations to pursue some pretty large settlements; one even filed a recent infringement suit that is north of $100M!
The music business is complex and artists are tasked with a myriad of business responsibilities in addition to creating and performing their music. While keeping up with copyright law changes is arguably one of the most important tasks an artist can take, they just don't have the bandwidth.
Because of this, educating the creative community is a priority for us. In particular, community partnerships at Cosynd play such a significant role in our education strategy. We consistently strive to provide our partners with the educational resources that will inform these communities on the importance of copyright registration and provide them with an easy and affordable way to do so. Our partners are trusted sources from distributors and streaming providers to PROs, publishers, and labels along with many other industry organizations who understand the importance of safeguarding the livelihood of this community. 


Music Biz: Another impactful change to U.S. Copyright law was the institution of the CASE Act in late 2020 and subsequent creation of the Copyright Claims Board (CCB). Can you discuss what benefits affords creators who file copyright claim litigation through the CCB?
LC: The launch of the CCB is a huge win for creators that provides an easy and much more affordable way to resolve copyright disputes. We have always been big advocates for the CASE Act, even leveraging our artist and partner communities to help support this legislation.
Up until now, there was only one place where you could file and endure a copyright infringement lawsuit: in federal court, in person, with an average price tag of approximately six figures — a seemingly impossible price tag for the average creator. The small-claims process allows creators to file for a fraction of the cost (that is, a $100 filing fee).
Additionally, the small-claims process provides judges who can try cases digitally. This way, copyright owners will no longer have to deal with the logistics of appearing in-person and it allows them to represent themselves without an attorney, if they so wish.
There is no doubt that there will be a big increase in copyright infringement filings with the CCB, particularly with the DIY creator community. As an affordable and efficient alternative, this will be a game changer for this community who can now file infringement suits that would have otherwise been brushed under the rug because of bandwidth and financial barriers. 


Music Biz: NFTs have presented the music industry with both opportunities for financial growth and challenges of meaningful implementation, as well as security. What copyright issues, either new or longstanding, have bearing on this new creative format that artists should be aware of?
LC: We are seeing a massive boom of creators exploring NFTs as a new revenue opportunity and it certainly has the potential for huge revenue growth for the music industry. That said, because an NFT is merely a digital copy of an underlying copyright, artists must be vigilant about protecting their work before they even think about minting an NFT.
The most challenging part of the NFT craze is that there is an influx of artists reporting that their work is being stolen and sold on NFT marketplaces without their permission. Typically, when you sell an NFT, the creator is still the owner of the underlying copyright and therefore, that copyright must be protected.
That being said, since this format is so new, there is the possibility that copyright laws could evolve and become more stringent for NFT creators. It was just earlier this summer (June 2022), when the USCO and USPTO confirmed that they will carry out a joint effort to address issues related to NFTs. 'Till then, it's still the wild, wild west!


Music Biz: Is there a case to be made about creating a legal framework for the protection of non-fungible, digital goods (like NFTs); or, does the current copyright framework harmoniously address the specific needs of their creators?
LC: When you think about the concept of NFT marketplaces and blockchain technology, it's really an alternative, decentralized way to engage in activities that have traditionally been governed by centralized regulatory systems like the U.S. government. The very basic idea of the blockchain is that it provides you with a way to store data without having to trust any one person, company or entity to keep things secure and accurate. And that's great… until you get into the conversation of ownership.
NFTs are designed as unique, distinct digital assets that can't be copied. When you purchase the NFT, you are now the owner of that unique asset, but NOT necessarily the copyright, as the artist usually retains ownership of the copyright.
When you think of copyright ownership, the USCO is still currently our gatekeeper. Copyright holders are granted many legal benefits, like the right to reproduce, create derivative works, distribute and perform that work. None of these rights are granted to NFT owners.
In other words, the advent of these technologies can provide an alternative method for recording the buying and selling of digital assets, but are not substitutes for the copyright ownership procedures and protections established by U.S. Copyright Law. There's a larger conversation to be had about the tech industry's responsibility to find the balance between ethics and efficiency, particularly when that technology is dependent on the work of the creative community, which has traditionally seen the short end of the stick through all of these tech plays. 


Music Biz: Another common challenge artists and rights stakeholders face is dealing with instances of infringement or lost revenue overseas — has the increasingly more connected, borderless nature of the world improved the processes of ensuring copyright protection in territories outside the U.S.?
LC: There is no doubt that technology has made music consumption accessible on a global scale and because of that, we are more connected than ever. But with global accessibility, we have to wonder if that content is protected.
Unfortunately, there is no such thing as an international copyright that protects an author's work throughout the world; however, registration with the USCO will grant you protection in 175+ other territories, including most major countries. This means that the majority of works created outside of the U.S., that are registered in the U.S., will have some form of protection nearly worldwide — the closest thing you can get to global protection.
In fact, approximately a third of our users reside outside of the U.S. This is largely due to inadequate protections in the countries they reside, or because they may have a vested interest or publishing requirement for registering in the U.S. since most infringements occur here.


Music Biz: This also brings to mind the recent education around neighboring rights in the U.S., a seeming "blindspot" of missed revenue for creators. In your mind, how successful have these efforts been and what work needs to be done to raise awareness of these unclaimed funds?
LC: From the copyright point of view, a common misconception we hear from artists is that their work has already been registered with their PRO or SoundExchange, assuming that the one registration legally protects their work and allows them to collect all of their royalty payments. In reality, there are several royalty streams related to the digital distribution of music and an artist should be registered with each organization that administers those royalties (PROs, Sound Exchange & the MLC), as well as with the U.S. Copyright Office to ensure that they are legally protected.
With more than $2 billion at stake annually, there is clearly a miss somewhere. Perhaps these organizations can find a way to work together and help guide and educate the artist community on each registration that's required of them, which would greatly alleviate the "blindspot" of missed revenue all around.


Music Biz: As we wrap up, are there any thoughts you'd like to share on the future of the copyright landscape in the music industry?
LC: Honestly, this is a fascinating time. I foresee significant developments in copyright rules and practices in the next five years. New technologies and digital media features are influencing how creators are developing content and even how we are consuming it. These new opportunities are also creating the need for clarity and structure.
Take the TikTok strike for example. Black creators were refusing to create choreographic content after multiple instances of creative theft occurred by non-Black influencers that went viral, making the infringers a significant amount of money from content that was not created by them. There has since been a huge push for creators of choreographic content to be more conscientious about safeguarding their work. The issue is, how?
Unfortunately, our copyright laws in the U.S. haven't changed much since the 1970s, when choreography was officially added to the revised Copyright Act of 1976. At that time, no one had any idea that streaming would exist and that choreography would be a multi-billion dollar business.
Historically, when a choreographer creates a dance for an artist or label, they sign a work for hire agreement that, in many cases, transfers legal ownership of their creative work to the artist or label. But that is often not the case anymore, particularly when you're talking about the 15-second viral dance videos on TikTok.
Although there have been a few success stories of choreographers successfully registering their dance with the Copyright Office, it's a seemingly impossible task for the average creator.
According to the Copyright Act, to be able to get exclusive rights to a dance, it must be an original piece of work that contains dance movements and patterns organized as a whole. It also has to express a certain level of creativity without having any common movements or gestures. With such vague guidance, many choreographic creators are left with registrations that are denied.
Looking forward, I hope we continue to see more modernization within the Copyright Office to accommodate the consumption increase of these different content formats.
---
About The Interviewee:
Liz Cimarelli is the COO and Head of Business Development for Cosynd. In this role, she has led the company to help thousands of creators and businesses alike, from more than 120 countries around the world, protect themselves and all of their content — music, videos, imagery, literature, and more. Cimarelli has nearly two decades of experience across the entertainment, music and media sectors, including stints with Nielsen Entertainment, Semetric/Musicmetric, MusicMind Tracks, MediaEdge and McCann / MRM Worldwide.

You can read past "Keeping Tempo" articles via the portal linked here. And, stay tuned for more insightful discussions from our members and partners from across the industry!