[Keeping Tempo With Music Biz] — Managing Content Discovery During the Podcast Explosion with Gracenote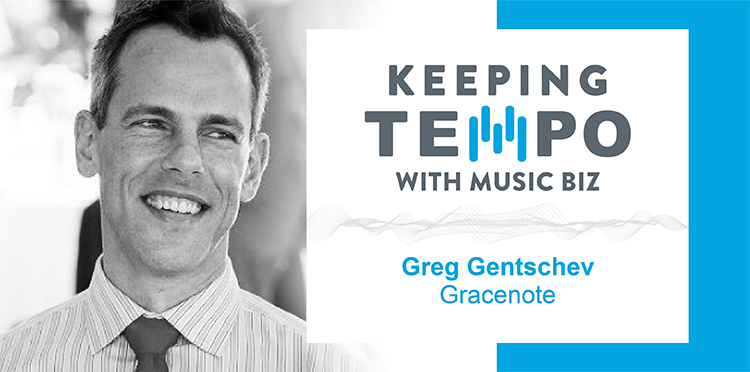 The Podcast renaissance is in full swing, with many fan favorite celebrities and hosts taking the helm of their own shows and even some interesting projects debuting from within the music industry as a way to cross-promote new music. The result of the format's increased popularity is a boom in content that is daunting to sort through, to say the least. In our latest Keeping Tempo interview, we sat down with Greg Gentschev, Gracenote's SVP of Product Management for Music & Auto, to discuss the company's new dataset that aims to simplify and improve consumer search for podcasts, which helps both content creators and advertisers reach the audiences that matter the most to them.
---
Music Biz: To help consumers filter through the ever-increasing flood of content, your company has developed the new Gracenote Audio On Demand discovery dataset. Can you talk about what led you to work on this tool?
Greg Gentschev: Over the years at Gracenote, we've developed multiple datasets spanning across music, video and sports to help entertainment fans search for and discover more content and artists they love. With podcasting continuing to gain popularity as a medium, Gracenote created a standardized and enriched dataset enabling powerful navigation, search and discovery of more than 37 million podcast episodes across all digital entertainment platforms. With this new offering, streaming music platforms, consumer electronics (CE) companies, Multichannel Video Programming Distributors (MVPDs) and automakers can create personalized listening experiences, allowing podcast and talk radio fans to connect to a broader range of personalities and topics than ever before.
Music Biz: When developing this tool, what special considerations did you need to take into account to best service the podcast medium?
GG: We needed to keep in mind the fact that podcasting is a very open medium. Essentially, anyone can upload and submit podcasts to any number of platforms to have their shows distributed and played. Therefore, there is a massive amount of diverse podcast content, but a lack of structured descriptive metadata around that content. This makes the discovery of new podcast shows and episodes that match listeners interest a challenge.
Music Biz: There are obvious advantages for the curious podcast consumer looking for their next favorite podcast thanks to the Gracenote Audio On Demand tool — what benefits would you say it offers on a B2B or content creation level?
GG: Gracenote Audio On Demand offers a variety of benefits for podcast creators and publishers. Gracenote provides expanded distribution of their content through our dataset and makes that content more discoverable across the different streaming platforms, increasing listenership for the content creators. 
Also we are seeing an increase in advertising in podcasts. Gracenote provides in-depth category tagging that will enable more effective subject-based ad targeting. 
Music Biz: Would you say Gracenote's approach with this new tool is more AI-driven, human-curated, or a marriage of both? And what advantages do your particular methods bring to the table?
GG: Gracenote's approach to this new podcast dataset is a marriage between AI-driven and human-curated. By leveraging our world-class editorial team and powerful machine learning algorithms, Gracenote applies a detailed category taxonomy to both popular podcast series and episodes to make it easier for consumers to find the specific topics they're interested in.  The deep descriptive data and unique content identifiers offered by Gracenote Audio On Demand are subject to the same rigorous standards and quality control applied to Gracenote's Global Video Data and Global Music Data products.
Music Biz: One example of how the Audio On Demand platform works is that it matches podcasts guests with other shows they have been featured on, or that they host themselves. Is there crossover between your podcast discovery tool and your music tagging platform — e.g., for artists who host their own podcasts or artists whose recordings are used in podcast episodes?
GG: Gracenote's enriched metadata allows users to easily search for and discover new entertainment content from their favorite musicians, hosts, actors and actresses. We have incorporated Gracenote's celebrity product elements such as celebrity images and bios to further increase engagement with podcast listening. While both the podcast and the music discovery tool both play a critical role in each different dataset, we haven't incorporated the music element just yet. That is something we definitely plan to do in the future. 
Music Biz: It would seem that connecting users to shows within the genres they already like (True Crime listeners to more True Crime shows, for example) — is there a precedent you were able to tap into to program solutions that would connect them to adjacent topics they might be interested in?
GG: Gracenote Audio On Demand will help listeners discover a broader range of personalities and topics based on preferences and behaviors, something accomplished through Gracenote's enriched metadata. Gracenote's metadata such as popularity score and rich descriptors help drive better search and discovery among the thousands of podcasts series and episodes that are available today. Each of the 900,000 podcast series will be assigned a popularity score to help surface the most popular content, while the top series will leverage more descriptive information such as category hierarchy and celebrity links for more powerful search across the different platforms and cross-media linking capabilities. 
For example, following a search for episode four of "Conan O'Brien Needs a Friend" featuring Dax Shepard, Gracenote Audio on Demand can help surface recommendations for related podcast shows that include Conan O'Brien, Dax Shepard, and other content from the podcast's publishers.
Music Biz: Do you think cataloging solutions like Gracenote's will influence how content creators or DSPs input show metadata at the user end going forward?
GG: Gracenote is influencing how content creators and DSPs can input metadata earlier in the content lifecycle. Listening platforms / DSPs are able to create enhanced navigational experiences across the platform with increased focus on topics and celebrities for playlisting and recommendations to increase engagement. DSPs are also able to leverage celebrity images to create more visually-rich UIs. 
Music Biz: Looking to the future, are there changes or innovations in the podcast format that you expect may result in updates to the Audio On Demand suite?
GG: At Gracenote, we never stop looking for ways to drive innovation within the entertainment industry and are constantly enhancing our AI and algorithms. Entertainment mediums such as podcasts are evolving and continuing to increase in popularity. We are exploring additional content descriptors and features to further enhance podcast discovery and trial to enable better user experiences and data for recommendation algorithms in the future. 
Music Biz: To that point, do you have any insights on how your work with this solution may influence your content-tagging toolset for whatever the next big media format may be?
GG: Podcasts have strong synergies across video, music and sports content. By leveraging Gracenote's metadata and identifiers across the other media types, we're linking similar content to enable cross-media recommendations and universal search capabilities across platforms, devices and apps.
---
You can read past "Keeping Tempo" articles via the portal linked here. And, stay tuned for more insightful discussions from our members and partners from across the industry!