[Keeping Tempo With Music Biz] — Celebrating Creativity in Music Marketing And Advertising: Q&A with Clio President Nicole Purcell and Director of Clio Music and Clio Cannabis Michael Kauffman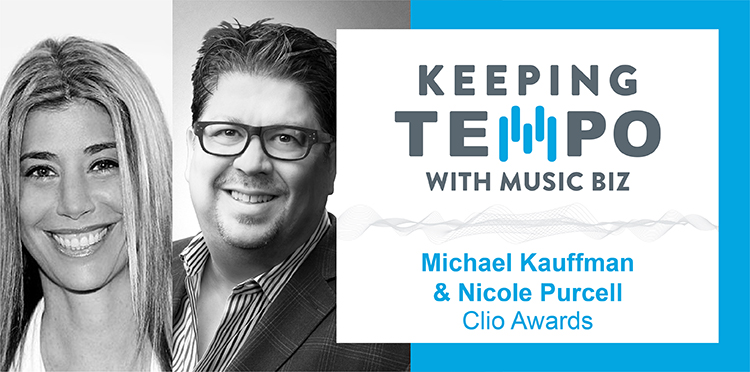 Founded 60 years ago to recognize high achievement in advertising, The Clio Awards celebrates annually the excellent campaigns and talented professionals that raise the bar of what's possible in promotional campaigns across a wide variety of markets — sports, fashion, music, entertainment, health, and most recently, cannabis. In this interview, we discussed with Clio President Nicole Purcell and Clio Music/Clio Cannabis Director Michael Kauffman how the idea of advertising awards program came about, how the brand's commitment has expanded to a year-long content push, what role music has in taking ad campaigns to new heights, and more.
---
Music Biz: First off, congratulations on 60 years! Can you tell us about how the Clio Awards came to be — what void did the organization seek to fill with an award show for ad campaigns?
Nicole: Thank you! This is actually something we took a deeper look at this year as we spent time going through Clio's history for our 60th anniversary. Early event programs describe the organization's desire to develop a "bulwark in the cause of responsible, imaginative advertising" and strengthen "the general impression of the level of television advertising." Which, in my opinion, is still pretty closely in line with how we approach the evolution of our existing programs, and the criteria we consider when launching a new vertical. It's about setting the bar, and then challenging our industry to push past that boundary. 
Music Biz: In your own words, who do you feel benefits from the Clio Awards program —  fellow advertising professionals, the content creators involved, consumers, etc.? 
Nicole: At the center of what we do is celebrate creative thinking, inspire new ideas, and connect people in and out of our industry so that everyone benefits from the program. The recognition boosts morale, and encourages growth, innovation and healthy competition. It's an incentive that pushes creators to reach new heights, which ultimately enhances the consumer experience. The cycle has benefits for everyone that interacts with the work. 
Music Biz: As a year-long expansion of your annual awards ceremony, Clio established the Muse by Clio content platform. Can you talk a little about why Clio expanded beyond the annual awards event?
Nicole: There is so much thought provoking, entertaining, and game-changing work produced on a daily basis, and we felt like we had a unique perspective on how to highlight it. Muse by Clio is an extension of the Clio mission in the way that it celebrates the ideas, creativity, and originality across brand advertising, music, sports, fashion & beauty, health, film, TV, gaming, and cannabis. With this platform, we get to celebrate creativity 365 days a year and build a community independent from Clio's awards business — one where we cover the work we love, whether or not it has any connection to Clio submissions or winners.
Music Biz: Clio has recently introduced a new Clio Cannabis program. Music Biz has discussed the opportunities that the legal sale of cannabis products warrants for partnerships in the music business in past Conference panels. What drove Clio to start a cannabis-specific program now, in a time where public opinion over cannabis use is turning more positive but nationwide legalization in the U.S. is still a ways away?
Nicole: At Clio, we have worked hard to establish best-in-class programs that are custom built to celebrate the diverse and nuanced creative work of a specific industry. In this case, we saw an opportunity for Clio Cannabis to set the bar for creative work in a rapidly expanding sector, help to build an understanding of a developing category, and elevate the marketplace to encourage creative contributions from top talent and agencies.
Music Biz: Moving on to the connection that music has with advertising, why do you think choosing the right song has such a major impact on advertising campaigns?
Michael: Music is deeply emotional and personal. It helps tell and enhance the stories we share, and when combined effectively by an agency or brand with still or moving images, it connects us to the brand, individual, or cause sharing that story. Obviously, film and video are ideal vehicles for storytelling and for emotional connection too. A rights song coupled with compelling visuals affects us on a powerful personal level. When I watch the award-winning work selected by our Clio Music juries each year, I'm reminded again and again and again how musicians and songwriters have such tremendous power not only to inspire, but also to provide a voice in support of those whose stories need to be told.
Click here to visit the 2019 Clio Music Winners Gallery.
Music Biz: Given that music plays such an integral part in modern ad campaigns, can you talk about why the decision to break out a music-specific awards program (Clio Music)?
Michael: When Nicole took over the Clios, she recognized the need to celebrate unique types of work endemic to the music marketing and advertising arena as well as to the creatives producing it. As an industry, there are unique mediums and methods like music video, for example, that are integral to launching musicians' careers and connecting them with their fans. Music and advertising have such powerful synergies; we felt it was important to elevate this business vertical as well as to celebrate the creative community as they support artists and their music.
Music Biz: Tell us a little more about the program — is Clio Music more geared toward celebrating advertising in the music business, the best use of music in a campaign, or both?
Michael: It's truly geared for both. Clio Music is a two-fold program with awards given in Music Marketing for creative work that promotes an artist, a label, or a music brand, product, or service and is submitted by labels, streaming services, music marketing agencies, and other music-centric companies. Mediums in this area include Branded Content, Design (for Events, Packaging, or Printed Materials), Digital/Mobile, Experiential/Events, Film/Video (including Music Video), Film/Video Technique, Innovation, Partnerships & Collaborations, Social Good, Social Media. 
The other complementary part of the program highlights the creative Use of Music by non-music brands in advertising (licensed, original, or adapted work) in commercials, trailers, and other marketing uses.
Our mission is to celebrate creativity and originality within marketing and advertising, and to recognize the marketers, music supervisors, and creative teams at agencies, labels, publishers, and brands who are producing work that inspires the fan in all of us.
Music Biz: The Clio Awards presented the Ram Trucks "Farmer in All of Us" panel at Music Biz 2019, which dove into an ad campaign designed with music as a core focus. What about the use of music here pushed the boundaries in what's possible in an advertising campaign?
Michael: The "Farmer in All of Us" campaign used the music of Easton Corbin to bring an emotional layer of authenticity to a heartfelt American story — that of family farmers toiling for the greater good. The original RAM "Farmer" commercial during the 2013 Super Bowl drove an emotional response largely through stunning photography and the voice of Paul Harvey. The follow-up campaign wisely used an original music track to pick up on that emotional thread and take it in a fresh direction. The music perfectly underpinned the mini-documentaries that comprised "Farmer in All of Us," providing a lush bed on which to nurture the evocative agricultural stories. 
The track was also featured in its own music video — an added layer that wouldn't have made sense with a licensed track. In all, the music elevated the campaign and rooted it in the American spirit that each episode was trying to convey.
Music Biz: And how do you think this can be applied to the use of music in ad campaigns in general?
Michael: Brands are recognizing that music really can be a core component of the creative process, rather than an "add-on" at the end. RAM had worked with Easton Corbin before and knew what he could bring to a production. Brands that engage with artists on a deep level like this, over the course of months and even years, are able to develop relationships that are win-win for everybody. Respecting the artist and what they can bring to the table can create a much richer and more authentic relationship that can be truly felt in the finished product.
Music Biz: Michael, you also hosted the "…And the Clio Goes To" program during the 2019 Music Biz Educators' Meetup. Can you talk a little about the panel, and any examples of students' work that has stood out to you?
Michael: We've had remarkable work submitted over the years by students, and in quite a few cases, the award recognition has been a factor for recipients in helping launch their careers in advertising. One example that I love — and shared during the Music Biz session — involved a 2016 Clio Music Gold winning entry entitled "The Silent Song." Created by two Norwegian students, Kaja Koppang and Josephine Berntzen, it's a brilliant creative idea that ties the launch of a new Adele song with a cause-based initiative that benefits the World Federation of the Deaf.
Created for a class while they were attending the Westerdals School of Art in Oslo, the two students were able to parlay their win and schoolwork into career opportunities. Post-graduation, both went were offered gigs at agencies in Norway. Currently, Josephine is an Art Director at McCann Oslo.  
That's the type of story that exemplifies the power of a simple creative idea to truly have an impact on someone's life. 
Music Biz: Recording and touring artists often act as their own brand ambassadors, doing the majority of the legwork in promoting their music and creating awareness of their personal brand. From your perspective, how can artists balance their own integrity with the need to market themselves to potential audiences?
Michael: Certainly it's about artists recognizing partners who align with their vision, their values and the stories they want to create and share with their fans. It's a smart exercise to think about who and what are important personally and artistically — what brands do are creating interesting collaborations in the marketplace? How can a collaboration benefit both parties? My advice to artists is to reach out to those teams and compliment them on ideas you love. It's a first step towards finding that balance and letting creative relationships develop. By digging into the credits in marketing partnerships and branded content you love, you can better envision what would work best for your own marketing efforts.
The 2019 Clio Awards will take place this Wednesday September 25 at the Manhattan Center in New York City. Visit the Clio Awards website for more details.
---
Given the always-changing nature of the music business, it is extremely important for today's industry professionals to stay current with the latest trends and technologies influencing the ways we work. Our "Keeping Tempo With Music Biz" content series taps into the brain trust of expert voices from Music Biz's member and partner communities to help readers understand the machinations of the modern music business and arm them with the tools to help them achieve success.
You can read past "Keeping Tempo" articles via the portal linked here. And, stay tuned for more insightful discussions from our members and partners from across the industry!